Welcome to the Naval Academy Parent Club of CT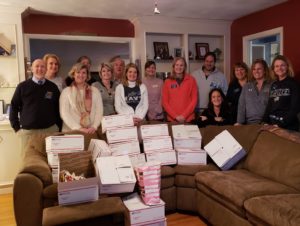 CONNECTICUT Loves our Mids!!!
We had a great time packing Care Packages to cheer the Plebes up during the "Dark Ages" ~ The packages will be delivered this weekend along with a special gift card and valentine for each and every upperclass midshipman from Connecticut!
—————————————————————————————————————————————————————————
On behalf of the USNA Alumni Association & Foundation, we'd like to invite you to join our local parent club!
Welcome and please let us know who you are (email our Membership person at carolkittydavis@gmail.com)
Email: david_kerri_bond@sbcglobal.net.
Follow Us on our Facebook page for more information.
And if you're not already a member – Join Today!
A note from the president…
I hope to see you at one of our next events!
– Club President
Lookout for news on these UPCOMING EVENTS
April Meeting  ~ Date & location TBD; This is a very important meeting to secure the continuity of the club. Join us and consider joining the board!
June 2, 2019: WELCOME ABOARD to the class of 2023 at the U.S.S. Nautilus Museum in Groton 2pm-4pm (tentative)