News, Events & More
Welcome Aboard on Sunday, June 6th
Posted: 4/27/2021
Welcome to the incoming plebe class of 2025 and their families!     [and first in-person welcome to the class of 2024 families]
The Naval Academy Parents Club of Connecticut (NAPCCT) invite you all to participate in a Welcome Aboard on Sunday, June 6, 2021 at 2:00 pm with additional time for plebes to connect direct with current Midshipmen. This is an informal information exchange where both plebes and parents/guardians can ask questions and connect with other USNA parents in CT.
In-person: This year we plan to hold an in person event at the home of Martha Corneck '24.
NOTE: A Zoom link will be provided a few days before the event.
Address: 35 Hyde Ln., Westport, CT 06880
House: The house is on the corner with a weeping cherry tree in the middle of the driveway. The mailboxes are in clusters down the road.
Parking: There is plenty of parking in the driveway, along the street or there is an elementary school at bit up the road on the same side.
GO NAVY!
NAPCCT Meeting Sunday 4/25 at 2pm
Posted: 4/18/2021
The next NAPCCT meeting will be "in person" on Sunday, April 25th, at 2pm at Tamath and Ray Rossi's house.
The meeting will be outside on the patio so everyone can be at a comfortable distance. We will have some chairs available but feel free to bring your own. Please RSVP to Tamath Rossi at (203) 910-5998 or contact her directly with questions.
AGENDA (tentative):
Upcoming Board Elections
Planning for 2021-22 Events
We look forward to seeing you there!
Thank you,
Marsha Brace
Membership, NAPCCT
Other Past Events
Posted: 10/30/2020
October 30th, 2020
Greetings,
A huge thank you to Amy and Bob Brough who hosted our CT USNA Parent group meeting on Saturday, October 24! We conducted our regular meeting and went to work on creating gift bags for our CT Mids. With the announcement of the Mids not being home for Thanksgiving, we wanted to show our support and a little TLC. I want to thank all of the families that participated and donated. Due to the generosity of the group, the Mids will receive a bag loaded with goodies including assorted gift cards including Panera and Starbucks, and each will receive a $25.00 MasterCard gift card. After some discussion, it was decided by giving a generic gift card, the Mids could go where they wanted to and hopefully get a good meal! I will be delivering the bags to my son and he will be contacting the Mids to come and pick up their bags.
Several families were unable to attend our meeting as they were visiting their Mids. We were happy to know they were getting that opportunity and hope they all had Some good family time.
We are currently coming up with a plan for an outdoor Army Navy tailgate with the game. More to follow! As always, if you have any questions or ideas we welcome them and encourage you to reach out!
Stay safe and well and GO NAVY BEAT ARMY!
Best,
Tamath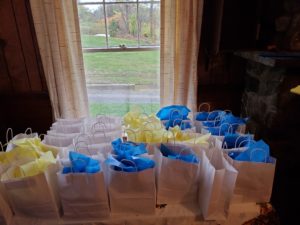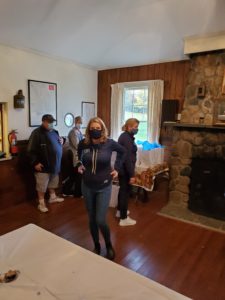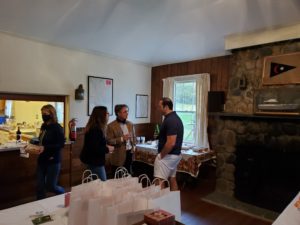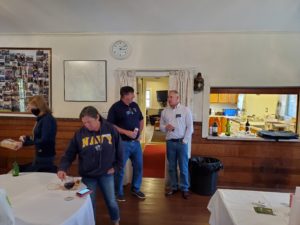 July 27th, 2020
Greetings USNA Parents.
I hope this email finds you and your families safe and well. Hopefully our Plebe parents are settling in and your "Where's Waldo" photo hunting has yielded a few glimpses of your Mid! I have received a few questions from parents and encourage you to reach out any anytime for any questions or concerns you may have! That is what we are here for: Supporting one another and our Mids. Now, more than ever, this group is a great resource and support as we continue to navigate through this uncertain time. We were all disappointed to learn of the Plebe parent weekend not taking place. This is a huge disappointment for the Plebe parents and we are sorry that is not going forward. At this point, the 2C weekend remains on the calendar, but we are expecting that to be cancelled as well. To the rest of our parents dealing with the return of their Mids to the Yard and all of the new and different protocols, we hope you are managing and adjusting to the new normal. Our Mids are in good hands at the Academy and I know that the staff continues to work very diligently to ensure our Mids remain safe. On a positive note, our Mids are learning the real lessons of living and leading in an uncertain environment and dealing with the pressure that brings.
Our NAPCCT meeting took place via zoom on Sunday, July 26th . While attendance ended up with just the Board in attendance, we are looking forward to our next Zoom meeting on Sunday, September 20th at 4:00 PM. and hope to "see" many of you then! A Zoom invite will be sent to the entire membership closer to September 20th. We will be hosting a Virtual Plebe Parent gathering during this meeting in light of Plebe Parent weekend being cancelled. We will be highlighting our Plebe families and will have some fun filled facts about the academy for our families. We look forward to the parents sharing their experience of Plebe Summer with all of us and to share with the Plebe parents some of the events and milestones to look forward to in the upcoming year.
Calling all Youngsters, 2C and 1C families and parents! We need your help in this so we are hoping you will attend the Zoom Meeting! We will be holding our officer elections on September 20th and discussing upcoming events. We are reaching out to our parents to consider getting involved! We will have vacancies on the Board in May and need to fill them in order to ensure the continued success and growth of our group. We are seeking individuals that are interested in becoming involved in any capacity as well as to consider taking a role on the Board. Our treasurer Craig Kohler will become a "Fleet parent" in May of 2021 as his son graduates and the Broughs, who agreed to stay on an additional year, are now Fleet parents and will be stepping down as Co-Vice Presidents leaving the VP slot vacant. Our Webmaster, Steve Gemmell will be transitioning to a fleet parent as his Mid is graduating in May as well so we need a tech savvy parent to step in to post to our website as needed. Getting involved now, will afford those interested to acclimate to the business of the Board and provide a smooth transition. We hope you will consider getting involved!
We now have an official logo for our Club! A huge thank you to Amy and Bob Brough who have worked hard on this project. A flyer will be released under separate email (and on our website) soon of the merchandise available. This branded merchandise is only available through our club and all proceeds benefit the club so please consider supporting the club and representing your CT USNA parent pride!
Stay well and "see" you on September 20th!
Tamath K. Rossi
100 General Patton Drive
Naugatuck, CT 06770
(203)910-5998
tamathkrossi@gmail.com
June 1st, 2020
If you are looking for answers to your "Plebe Summer" questions, please click on the following link. It will be updated frequently!
http://ct.usnaparents.net/wp-content/uploads/sites/42/2020/06/2024-USNA-Priorities-and-FAQS-6.1.2020.pdf
May 12, 2020
On May 22 a virtual graduation/commissioning ceremony celebrating the Naval Academy's Class of 2020 will be broadcast at the link below. This is unchanged from the April 10 announcement. The virtual ceremony on May 22 will begin at 2:30 p.m. EDT with a Class of 2020 tribute, followed by the ceremony itself beginning at 3:00 p.m. EDT. The details of the virtual ceremony are under development, but the ceremonial swearing-in events will be filmed and incorporated as a part of the overall virtual ceremony.
https://watchstadium.com/live/us-naval-academy-graduation/
The Class of 2020 will retain their midshipman rank until their actual commissioning date of May 22, 2020; All private swearing in ceremony's to honor 2020 graduates can take place following the virtual ceremony on Friday 22 May 2020
May 9, 2020
Greetings to our Class of 2024 Candidates and their families.
A huge shout out of thanks to Class of 1991 USNA Alum. Evan Barnet for inviting the CT Parents Group
board to his informal meet up of the Class of 2024 Candidates and their families. The USNA CT Parent
Group Board appreciated the opportunity to meet all of you and let you know of our formal Welcome
Aboard on June 7. Please stay tuned for more information on the Welcome Aboard. We will email
details to you as we get closer to the date and look forward to officially welcoming you aboard,
discussing, and supporting you in this new journey!
Go Navy!
Past News
Dear USNA Connecticut Family,
The Connecticut Chapter will hold its annual Blue & Gold Admissions Dinner on Thursday 19 March at the Officer's Club of Connecticut in Hartford. The dinner is open to all candidates, appointees and their families, interested students and their families, guests and alumni.
To sign up please visit the link to RSVP / Sign Up Link
Please RSVP no later than Monday 16 March.
Date: March 19, 2020
Location:
Officers Club of Connecticut Hartford Armory
360 Broad Street #107, Hartford, CT 06105
Time: 6-9PM
Come hear an update on the state of the Academy and meet some of the young women and men from Connecticut who have appointments or are candidates for admission and the Blue and Gold Officers who are guiding them through the admission process. Our Blue & Gold Area Coordinator, Evan Barnet, '91, will speak about the admissions process and answer questions.
The schedule for the evening is: Social Hour 1800 to 1845 with a cash bar (soft drinks at no cost), Dinner 1845-2100.
The menu is: Tortellini with Pesto Cream Sauce, Caesar Salad, choice of Chicken Marsala or Grilled Salmon, Seasonal Vegetable Medley and Roasted Red Bliss Potatoes, with Strawberry Cheesecake and coffee or tea for dessert.
The cost is $50 per person.
Go Navy! Best…Evan Barnet, Area Coordinator CT BGO Program
Happy New Year Navy Family!Hopefully your holidays included some precious time with your Mids!  As we enter into the Dark Ages semester for our Mids, we would like to invite you to help us brighten up the Dark Ages for all of our Mids.To our plebe parents, this semester is called the Dark Ages as it is an especially long semester for your mid and you.  They are so looking forward to Herndon and "Plebe No More", it is cold and dreary and just an especially long and gruelling time for all Mids and especially the Plebes.  Every year our parent group gathers to put together packages for our plebes that are loaded with all kinds of goodies to help them get through the Dark Ages. We also send our upper-class mids gift cards to use during the Dark Ages.Parents are invited to join us on Sunday, January 26th at the home of Kathy and Phil Stack: 4 Glen Rd, North Branford. Kathy Stack's cell is 203-415-9072 if anyone needs it. We will be doing pot luck of light fare. The Stacks will provide drinks.Parents that want to help are asked to purchase items to be placed in the boxes for our plebes.  You may either donate the items or submit a receipt to Craig who will make sure you are reimbursed.  If you want to contribute and are unable to attend on the 26th we ask that you contact either Kathy or me (Tamath Rossi: 203-910-5998) to coordinate pick up of the items.  We will also have a Parent Club Meeting during the gathering, so it is a great opportunity to catch up on the opportunities to get more involved!There are 9 Plebes, so we are asking that you provide that many of whatever items you contribute.  In the past the following things have been purchased and sent to the Plebes:

Protein bars

Trail mix

Healthy snacks of any kind

Punch balloons

Flying airplanes

Beef jerky

K cups

Hand and foot warmers

Super balls

Stress balls

Over the door basketball hoop

Paddle  and ball

Paratroopers

Table top games

Lots of snacks

If you have any questions, please do not hesitate to contact either myself or Kathy Stack!

We hope to see you on the 26th!

Go Navy!

Tamath
TBD, 2020 – Ship Selection viewing party
TBD, 2020 – Summer Party